Start Saving with Solar
Request a Free Solar Quote for Your Home
Lower your energy costs
Decrease your taxes
$0 upfront options available
Thank you! Your submission has been received!
Oops! Something went wrong while submitting the form.
Start saving with Solar
Through Frontier you can unlock the opportunity
for monthly solar savings. *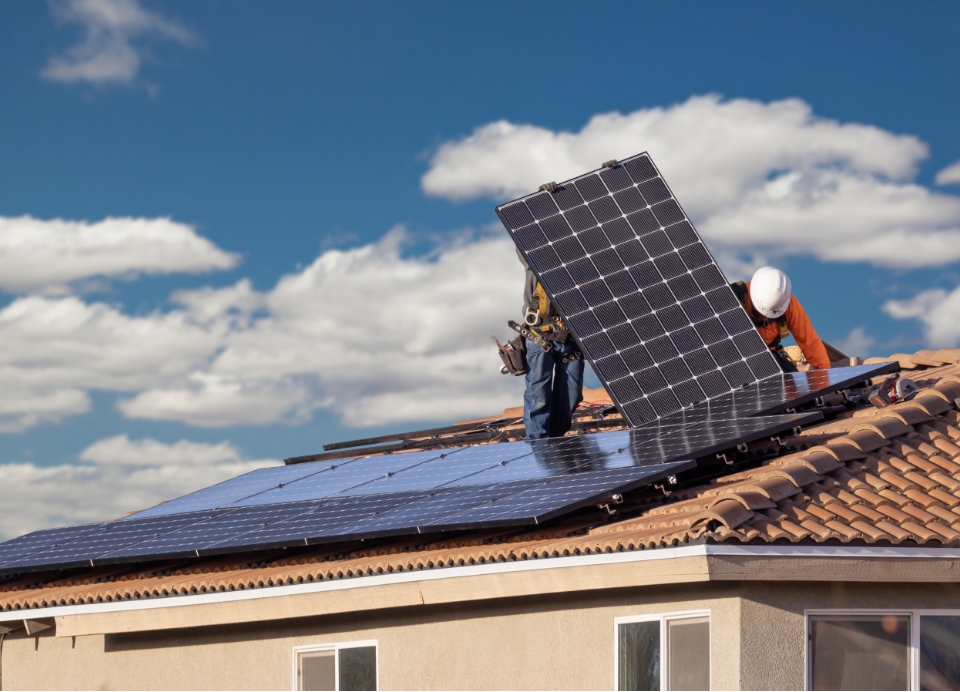 Protect yourself from rising electricity rates
Extreme weather and inflation have significantly impacted energy rates. In the summer of 2022, many home energy bills in Texas were at least 50% higher than they were in the previous 12 months.
Harness the Texas sun
Join the millions of Texans benefiting from solar
Texas Solar Potential
Texas is ranked 2nd in the nation for solar production — currently powering nearly 2 million homes. **
Solar Resiliency
Add backup batteries to store excess energy produced for convenient daily use or when you need it the most.
Solar Incentives
Reduce installation costs by qualifying for a 30% Federal Tax Credit. Plus, you could increase your home value an average of 4%. ***
Get a personalized solar solution
Plan a consultation that fits your schedule. Our solar experts are standing by ready to discuss the best solar solution for your home. Start taking full advantage of the benefits the Texas sun has to offer.
Frontier Makes Going Solar Simple
We have a complete solution for your solar journey that includes:
Solar Experts
We are here to help you make the best investment for your home. Our solar experts are ready to answer any questions you may have along the way.
Warranty Guaranteed
We back our solar panels with a 25-Year Warranty – plus an installation workmanship warranty.
Low Electricity Prices
When your panels aren't producing energy during the night, we have plans that help keep your energy costs low.
Questions about solar power for homes?
We can help. The benefits of solar energy are many, and we want to make sure that you're getting the most out of your panels. Learn more about how solar panels work by taking a look at answers to some common solar panel questions.
When it comes to paying for solar power panels, you have a few different options:

Cash: You'll own your solar panels in full. With this option, you're eligible for the federal tax credit incentive.

Lease: With this option, you'll rent your solar panels from your solar provider. Please note there are no federal tax credit incentives for solar leases. The lease benefit is typically a lower monthly payment vs. a solar loan. However, there are no federal tax credit incentives for a homeowner with a solar lease.

Solar Loan: You qualify for a financing option in which you'll pay for your solar panels over time. With this option, you're eligible for the federal tax credit incentive.

Depending on your budget and the type of solar panel system your home needs, one of these options may be a better fit for you. Talk to one of our solar consultants to find out more about becoming solar powered.
The total cost of solar panels for homes varies greatly depending on your individual energy desires and the physical realities of your home.  Depending on if you want to maximize energy-saving or to buy as much solar energy as possible, the resulting proposal can differ in size and therefore cost.  Further, energy generated from your panels will depend on the physical location and orientation of your home.  For example, larger roofs can hold more solar panels, and south-facing roofs are the ideal location.   Less optimal roofs will produce less energy which, in turn, makes your solar investment more costly.

Because the average cost to install solar panels can run upwards of $20,000, the majority of solar installations are financed by a third party. There are multiple finance options for a solar installation through a loan or what is referred to as a lease or PPA. A solar loan is like any other loan available as a lump sum of cash which is then paid off over time (including interest and finance charges). A lease (or a power purchase agreement – PPA) is a specialized finance of the solar system that includes a monthly payment to a solar provider. The main difference between the two is that a homeowner owns the solar system if it is financed through a loan. The solar provider owns any system financed through a lease or PPA. In either case, monthly payments should be considered carefully to understand if you will end up paying more for the finance than what you currently pay for your utility energy consumption.

Costs can also be mitigated by incentives offered by your local and the federal governments.  Refer to our section on Solar Incentives to learn more about solar panel savings.
Your household energy bill provides us with a measure of how much energy you consume and how much that energy costs you. This will help design a solar power plan proposal that is tailored to your individual energy needs.
Yes, solar panels in Texas are absolutely worth consideration.Any proud Texan knows the sun shines bright in Texas – which translates to a lot of available power through solar panels.  According to the National Renewable Energy Laboratory (NREL), on average the state is exposed to some of the highest levels of solar energy in the country. Source: Nrel.gov
The number of panels required to provide solar power for homes depends on how much energy each house specifically requires.  Every panel on the roof of a home will produce an expected level of energy output.  The number of panels required to cover the entire house is a simple calculation of that energy output per panel divided into the total household consumption.
Solar incentives refer to the financial stimulus offered at local and national levels for a homeowner to invest in solar installations. Through a number of programs, the U.S. Department of Energy and the Internal Revenue Service have established economic methods to encourage renewable electrification across the country. Currently, residential solar panels are eligible for a one-time Investment Tax Credit (ITC) equal to 30% of the total expense of a solar panel installation. For detailed information on solar incentive programs, the tax credit, and how to capture value for solar in Texas, we encourage you to consult the Office of Energy Efficiency and Renewable Energy and a tax or financial guidance professional.
Generally, home solar energy panels all come with at least a 25-year product warranty.  That warranty comes with a guaranteed level of performance across the warranty timeframe.  So, your panels are assured to operate at a specified level for the duration of your system's useful life. Additionally, residential solar systems usually come with 10-year warranties on workmanship from an installer.

All that being said, systems still need periodic maintenance to operate at peak levels.
As with any upgrade to the systems and comfort of your home, one of the major benefits of solar panels is that your investment can increase the total value of your property.  According to a study from 2019, "Homes with Solar Panels Sell for 4.1% More…", further making the answer to, "Is solar worth it," a resounding yes! Source: Homes With Solar Panels Sell for 4.1% More - Zillow Research.

Texas homeowners who install solar also benefit from a property tax exemption. According to the Texas tax code, increased home value due to solar installation is exempt from additional property tax. Source: Property Tax Exemptions - Texas Comptroller of Public Accounts.
There will be times throughout the year when your solar panels will generate more energy than your house is consuming.  When you are at work and nobody is at home using energy, the sun will still shine on your roof.  During those times the energy generated can be stored in a battery or sent back to the grid through your utility meter.  As the energy is sent back to the grid, known as "exported" energy, your meter will record that energy and report that to your energy provider.  And as long as you have signed up for a Net Energy Metering program with your energy provider then you will receive credit for that exported energy on your energy bill.

Get credited for excess electricity you put back on the grid with the Gexa Sun Rewards 12, 24, 36 plans. (Coming Soon) We encourage you to take a look once you have your solar system installed.
Yes, even if your solar system can produce enough energy to offset 100% of your household consumption, you home will likely still remain connected to the electricity grid.  Further, the solar system only produces energy when the sun is shining – during cloudy days and at night the panels will not produce much, if any, energy.  Therefore, you will still pay for that connection to the grid and any energy your home consumes from the grid.

That is why it is important that you have a contract with your energy provider that is designed for a homeowner with solar installed and provides you the most value for your Texas solar program.
There are several solar panel benefits and limitations to consider when it comes to solar panels. Some of the advantages of solar panels include:

You can reduce your energy usage and save money in the long haul.

Solar panels help to conserve natural resources and protect the environment.

Increasing the value of your home.

Some of the cons include:

The initial cost of solar panels can be expensive.

Ideally, you need a sunny location to get the most out of your solar panels.

Solar panels may not work optimally in cold climates.
Solar panels help to reduce carbon emissions and protect the environment by preventing the need for fossil fuel-based energy sources, such natural gas and coal. This also helps improve public health thanks to reduced air pollution. In addition, solar panels help to conserve valuable resources, such as water and land, which are used to generate electricity from other traditional sources.Source: Climate Change - Solar Energy Industries Association
A "solar battery" is an industry term used to refer to energy storage devices or batteries connected to a solar system. These batteries can come in many shapes, sizes, and brands. They store solar energy on-site at your home to be used at a later time (for instance; store some solar power for use later in the day after the sun has set, or during a grid outage).  Batteries provide more control over how and where your solar powered energy is consumed to best suit your economic or environmental needs. This device must be properly programmed and controlled by you or your battery provider through specific energy storage control software.
This decision to install a battery is typically made during the purchase of your solar system installation.  Although certain batteries can be retrofitted to an existing installation, many providers currently do not offer that as a service.  Adding the battery during your solar installation includes cost advantages on the labor during the install, simplified solar and battery electrical integration with your household circuits, the opportunity to cover expenses through the ITC mentioned above, and the potential for a more seamlessly integrated home solar energy storage system.

Construction details, costs, and battery features vary by brand and should be considered carefully. Even before a solar panel installation, it is recommended that a homeowner have a clear operational objective for including storage (e.g., required back-up power at your home) which will inform the design of a battery system.  Further, local market knowledge will help you understand what additional lucrative energy and solar incentive programs might be available to leverage in your regional energy market.
Take the first step towards your solar savings and request your free solar quote.